It is common to misplace keys or experience lock problems. These issues can happen unexpectedly and pose a risk to the security of your home. As a result, you must have a locksmith in mind who can assist you in resolving the issue. You can even consider getting duplicate keys from a locksmith to avoid such issues.
There are numerous reasons or scenarios in which you might require the services of a locksmith. They include replacing the lock when you move into a new house; single access installation where you want all the locks to be similar; losing your keys; advancing the home security system; and many more. All these services are essential for improving the security of your home. Engage the services of a qualified professional. Below are things you need to know before hiring a locksmith.
Does The Locksmith Have Relevant Experience?
Before hiring a locksmith, you should ask them about the previous projects they have completed. Ask how long the business has been in the locksmith industry. The projects will help you rate their experience depending on the quality of their work. Because they have dealt with similar problems in the past, experienced locksmiths have the skills and knowledge to handle any lock. Also, it is wise if you also ask them what they specialize in; for instance, some locksmiths specialize in motion sensors and exterior security.
Whether They Are Licensed
When hiring a locksmith, make sure they are licensed. You should request their current license number to demonstrate this. Working with a certified locksmith is critical for your safety. It will be beneficial to work with an expert because most people who are not licensed lack the necessary experience and skills to provide quality work.
Are They Familiar With The Advanced Technology And How Available Are They?
It is critical to hire someone who has the skills and knowledge to better understand advanced technology. An essential locksmith who is a member of a group such as the Associated Locksmiths of America will have all of the necessary knowledge. This will allow them to deal with complex problems associated with advanced security systems without making mistakes. It is also critical to understand their availability. Consider hiring a locksmith who is available 24 hours a day, 7 days a week, and can provide locksmith services even after business hours. For example, you might require one late at night. Are they still available?
Their Location
Think about hiring a local locksmith. It is critical because they will understand the security system problems in that area, and you will receive services quickly. Another advantage is that if they do not provide satisfactory services, you will be able to find them again to complete the task. People around you will also teach you a lot about them.
Are They Insured?
It is critical to work with insured locksmith companies. You will be compensated if any damage occurs while providing the services. Workers will also be insured and compensated if they are injured while providing services. You may be liable or responsible for damages if you do business with an uninsured company.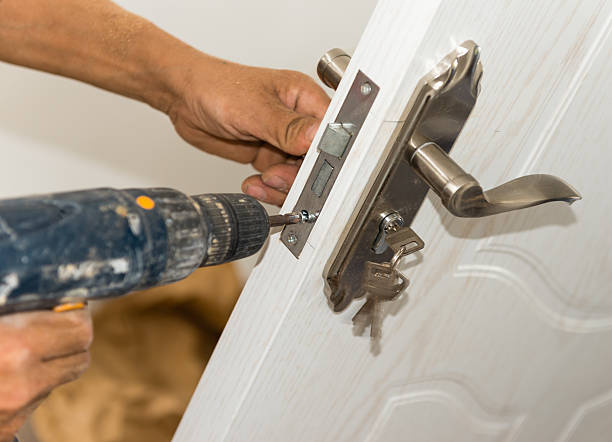 Professional Credentials
Because their professionalism is genuine, a reputable locksmith will quickly show you their credentials. If a locksmith refuses to show you their credentials, do not hire them. You should also look at the reviews and comments on their website and social media pages to see if they are positive and if they can provide what you are looking for.
Their Qualities
Before hiring a locksmith, consider the following characteristics. Some examples include dependability, communication, technical competence, and punctuality. You can learn more about these characteristics by asking trusted friends and family members. You can also see if they mention these qualities in their website comments and reviews.
Up-front Estimate
A reputable locksmith should provide you with a quote. Before starting the project, they should include the cost of everything that will be needed. Estimates are required to avoid paying unexpected bills following the locksmith service. Make sure they give you a written estimate that you will provide them after the service. Avoid hiring a company that does not provide upfront estimates.
Safety
When it comes to hiring a locksmith, safety is critical. You don't have to be concerned about them damaging your door locks or other lock systems. Consider hiring an experienced and reputable locksmith to ensure your safety. Consider hiring an insured locksmith so that you can be compensated in the event of damage.
Equipment
Consider hiring a locksmith who has the necessary tools to provide quality services. Furthermore, the equipment will help them with the complicated problems that come with repairing and installing it.
Warranty
Consider asking if they provide a warranty. How long is their warranty if they offer one? A reputable locksmith, for example, will provide a minimum warranty period of 30 days. This is critical in the event of theft or security problems caused by poor installation or repairs. If a company does not provide a warranty, you can move on to the next one.
Pricing
It is critical to inquire about their rates in order to match them with your budget. Different locksmiths charge different fees based on a variety of factors. To avoid breaking the bank, make sure you know their rates before hiring them. Remember that their pricing cannot be used to determine their quality.
Do They Perform Background Checks On Their Professionals?
Consider a company that conducts background checks on its employees. The individual must be trustworthy. This is to ensure the safety of your facility and its contents. A background check is also necessary to ensure that the employees are acting appropriately.
Considering the aforementioned factors, you will receive the highest quality services because you have chosen the right company. Because there are still some inexperienced people in the industry, taking these factors into account is critical. Hiring an inexperienced locksmith has numerous drawbacks, including money waste and home insecurity.
Why Choose Our Locksmith Services In Brandon, MS?
Pro Solutions Locksmith is one of the most reputable locksmith services in Brandon, MS. We are a locally owned and operated family business. We have over two decades of experience in the locksmith industry, which has allowed us to gain additional skills and knowledge. We can handle any lock, no matter how complicated it appears. We only use the best locksmith supplies and brands, such as Schlage, Master, Kwikset, Ace, and many others. Furthermore, we have the necessary equipment and know how to operate it.
Working with our professionals is risk-free because we are bonded and insured. We provide free estimates prior to the project to ensure that you know how much money you will be required to pay and to avoid unexpected bills. We also guarantee complete customer satisfaction. Our locksmith company is well-known for its dependability, communication, and punctuality.
Our residential and commercial locksmith services include installing locks, replacing keys, rekeying, providing safety and security advice, creating master keys, repairing locks, installing high-security locks, and much more. In addition, we repair cabinet or desk locks that have failed and provide door services for problems with doors. Furthermore, we respond to any emergency services, regardless of the day or time. We also provide car unlocking and automotive key services. Contact us today for quality locksmith services in Brandon, MS.